BMVS Pet-of-the-Month
Boozer is my name and happiness is my game. I am the BMVS September Pet-of-the-Month and hold my end up well. Being slightly over 10 years old, Dr. Bayne tells me I am in excellent health. He and his technician Chris love me very much. What's not to love? I ask you…..
Hey everyone! I am so proud to announce the BMVS August Pet of the Month. His name is Augustus (nice he is the August pet of month huh?) and he is a 4-month old Maine Coon kitten. His paws are huge and he weighs almost 8.5 lbs....at 4-months of age! He is the pride and joy of Harry and is super friendly and playful. Here's to you Augustus....
The BMVS Pet-of-the-Month for July 2019 is Dakota...She is a sweet Australian Shepherd that could not be more loving for her owners Susan and Tim. Dakota is such a loving soul. Here's to our July Pet-of-the-Month......Dakota!

The June honor could not be singled down to one cat or dog. You see, this generous animal lover owns several dogs, cats, and horses. They live on a beautiful farm in Oakland County. The pictures are limited to Diane and her dogs and cats so that no one gets the wrong impression that we take care of horses. On second thought, I included some horses. Just because they were cute pictures. Enjoy.
The May BMVS Pet-of-the-Month is Honey, a bouncing 16-week old Yellow Labrador Retriever. Honey hails from Canada originally and loves her forever home in Southeastern Michigan. She is beautiful and has more energy than a herd of wild mustangs. Her mantra is love unconditionally and lick everyone as much as doggedly possible. Kathy, Honey's mom, also has a tremendous amount of energy and is one of the hardest working individuals Dr. Bayne has ever met. Let's give it up for our new BMVS Pet-of-the-Month, Honey.

Sadie is the Bayne Mobile Veterinary Pet of the Month! She is a sweetheart for sure. With a gentle heart and wagging tail, she manages to be at the door to greet Dr. Bayne, Donna, and Chris. Kari ensures she is well taken care of and life is a joy for this girl. Sadie is the Canine Queen of southeastern Michigan.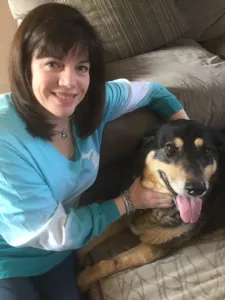 March 2019
Bow is a rock star among Labradoodles. He is loving and adorable to everyone he meets as Kit (shown below with Bow) affirms. Being an elder statesman of 5 1/2 years brings wisdom beyond measure. He is one of Dr. Bayne's successful cold laser patients with the cold laser therapy initiated July 2018. Previous to the therapy, Bow had a hard time navigating steps and often would fall simply walking on a level surface, let alone trying to go up and down steps. Let's give it up for Bow, our very first BMVS Pet-of-the-Month!