Dr. Norman Bayne, DVM, MS
Owner
Dr. Bayne is a proud graduate of Michigan State University and has operated Bayne Mobile Veterinary Services for the past twelve years. He is married and has four children. one grandson and a granddaughter that make him prouder every day. Dr. Bayne loves interacting with both people and animals and shows his care and compassion for your loved one when he comes to your home. His hobbies include college sports and major league baseball. His goal is to continue to grow the practice and one day enjoy many more grandkids. His home is graced by a dignified feline, Paws. He runs the household and keep everything in tune.

---
Christine, LVT

Practice Manager and Licensed Veterinary Technician
Chris is a licensed veterinary technician and we enjoy her presence on house calls with Dr. Bayne. She and her husband have three children. Together, they share their home in Rochester Hills with three dogs, a kitty "Bagheera" a rabbit named "Leo" and "Timone", the guinea pig. Chris has been with BMVS for six years now working in the capacity of Practice Manager and Licensed Veterinary. Dr. Bayne says, "Chris continues to amaze me. She constantly exceeds all expectations anyone could ever have for her."
---
Lori
Resident Artist
Lori is Dr. Bayne's sister and friend to every animal she has ever encountered. She loves animals, children, people in general, her husband Mitch, family, and life. Dr. Bayne consults her regularly for advice on issues and to generate artwork. She makes the most thoughtful sympathy cards for the practice with a Bible verse in each one. Lori is very grounded and easy to talk to on the difficult days and at times of joy. Dr. Bayne says, "Lori is just amazing in her pursuit of life and assistance for her friends and acquaintance. She has tremendous faith with involvement in almost every aspect of her church."
Karen
Business Manager
Karen is the business manager of Bayne Mobile Veterinary Services. She works full-time at Rochester High School teaching business. She is married to Simon and they have two lovely daughters. The two handsome Golden Retrievers you see in the photo are Toby and Harper. She loves to travel and has visited Guatemala on a mission trip last year to aid those in need.
---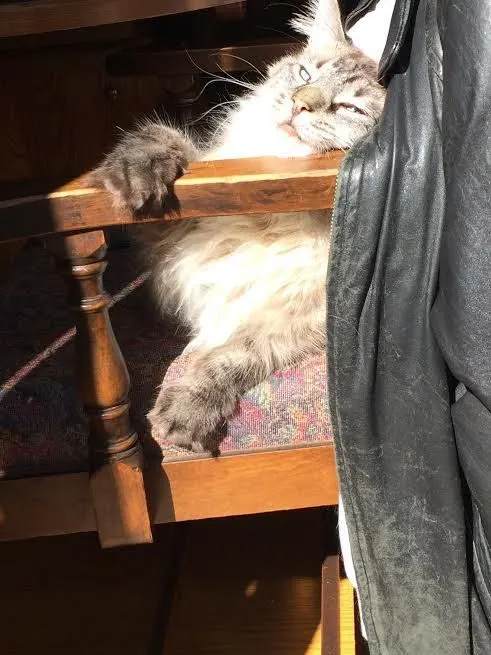 Paws
"Brains Behind the Outfit"
Paws has a great influence on all the staff of BMVS. He let's Dr. Bayne feed him, clean his litter box, and provide overall care. Considering all of this, Paws relents to being nice to Dr. Bayne and all of the staff that enter his residence. He considers himself a vital asset to BMVS.