Ryan and Paws Hard at Work
"Sadie, Sweet Sadie........how I love attention that comes my way. The cold laser treatment ain't bad either."
"Pumpkin and Christine, LVT"
"Skeeter"
"Oh, I wish they would call Dr. Bayne for this dang 'ole arthritis of mine."
"I love this cold laser therapy Dr. Bayne and crew offer..."

"Elliot"
"Maya"
"Marshall, my dad, and "Clyde" (Clydesdale)
"Marshall"
"Paws"
"Goldie Pox"
"Karl with a K"
Two-day old Black Foot kitty weighing a whopping 4 ounces; a joy for sure!
Today, Sheldon Cooper was caught napping on his favorite spot where everyone coming and going can fall in love with him.
Meet Chauncy Charles; he loves to scare Shirley the turtle by staring longingly next to the terrarium. I came in and Chauncy looked up surprised by the terrarium, darted under the desk and was trapped, then sprinted past me like a bullet out the door. BAGGED!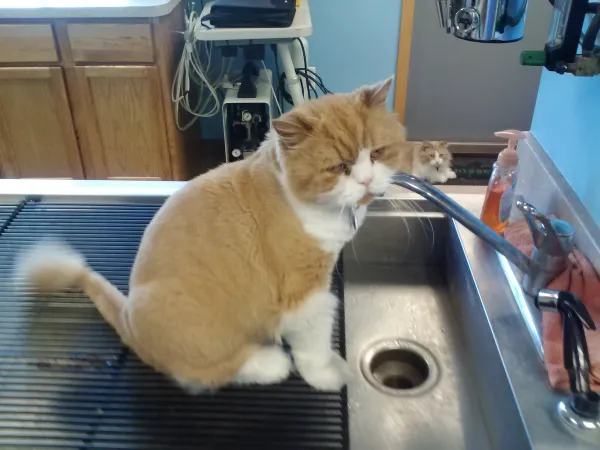 This is "Sheldon Cooper" at Mancelona Veterinary Hospital in Mancelona, MI. When taking this photo, I thought I heard him say, "You want me to do WHAT????"